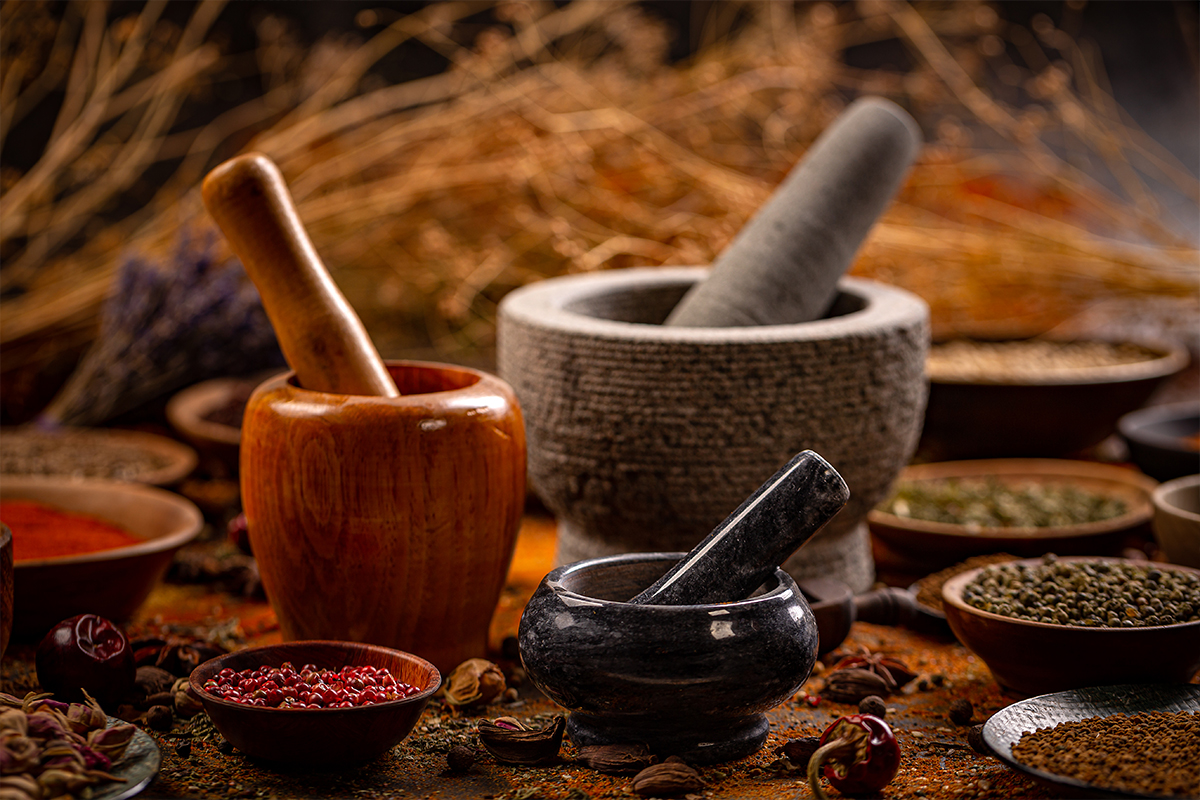 Indian cuisine is a well-rounded mix of sweet, savory, and salty dishes. The spices used in these cuisines boost the flavor and exudes an aroma that lingers in the air for a long time. Each spice adds a distinct flavor to the dish, but when used with other spices, bring a new flavor and develops a distinct taste profile.
Aromatic spices like cumin, turmeric, and coriander have a plethora of health benefits and help protect against several health conditions. Here a few spices that are used typically used in Indian dishes and their benefits for our health.
5 Popular Indian Spices and Their Health Benefits
Turmeric
It is one of the most commonly used spices in Indian cuisine. It lends the dishes a distinctive bright yellow color and a unique flavor profile to each meal.
This spice has been used for ages as an anti-inflammatory aid. Turmeric contains an active ingredient, curcumin, which works as a powerful anti-oxidant. The American Cancer Society found that curcumin eliminates cancer cells and helps in reducing the size of tumors in animals. However, research to conclude the same results in humans is still ongoing.
It is also regarded as the natural medicinal solution for managing Alzheimer's and joint inflammation. The spice may also benefit in cleaning the liver off the toxin accumulated due to excess alcohol consumption.
Cumin
Cumin, also known as 'Jeera', is one of the indispensable Indian spices. Popular for its rich aroma, cumin works well in conjunction with almost any spice. Hence, the spice is typically referred to as the spice that ties the entire dish together.
For eons, cumin has been infused in traditional medicines and consumed as a rich source of iron. Its anti-oxidants ingredients exhibit anti-inflammatory, antimicrobial properties. Studies also suggest that cumin aids in food-borne infections and help with digestion. Some research also demonstrates that cumin powder, when added with low-calorie foods, benefits in weight loss.
Saffron
Saffron is what adds color, flavor, and aroma to the all-loved 'biryani' and some desserts, too. Saffron is one of the expensive Indian spices, but its health benefits are invaluable.
Saffron is famous for its aid in improving vision and memory. Also, the spice proves beneficial in treating the signs of depression and digestive problems. It may also aid in alleviating your inflammations and working as an active anti-oxidants.
Mustard Seed
The little yellow and black seeds have multiple uses in an Indian household. Mustard seeds are packed with phosphorous, manganese, vitamin B1, and omega-3 fatty acids. These nutrients help in boosting our immune system, benefit asthma patients, alleviate cold, and several other health benefits. Also, mustard oil is used for massages to help to relieve muscle pains and spasms and to keep your hair shiny and strong.
Coriander
According to the Encyclopedia of Healing Foods, the health benefits of coriander dates back to 7000 years ago. In its fresh state, it is known as cilantro, while when dried it is used as whole or grounded seeds.
These seeds can be used as a spice or garnish and is often featured in the blend of spices. Coriander claims to have antifungal and antimicrobial properties. It also benefits in lowering blood sugar, cholesterol, and blood pressure levels.
If you are looking for the best Indian food in Seattle, WA, Indian Ballard Bistro is the ideal place to engage your senses in the mouthwatering Indian cuisines. We use the highest quality Indian spices to bring you the authentic Indian flavors. Our flavor-bursting Indian dishes will surely satisfy your taste buds and appetite.
Try one of our popular Indian cuisines and visit us today.
Contact Us
For Reservations, Events, Catering, Delivery, and Other Inquiries, Contact us Today!
2301 NW Market Street, Seattle, WA 98107 | tel. (206)783-5080 | fax. (206) 297-9069